The Members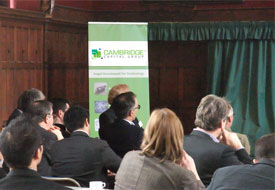 Cambridge Capital Group is a growing membership of over 80 investors who coordinate their angel investing via our process. Through a collaborative platform, each Member selects their own investments from the dealflow provided by Cambridge Capital Group. All have extensive commercial experience as successful entrepreneurs, retired professionals, or owners of substantial family business interests.
Members come from a variety of backgrounds including the following sectors: semiconductors, precision machinery, mechanical engineering, software, technology consulting, property development, banking and finance, specialist printing and packaging, healthcare, biotech and medtech, electronics and telecommunications, consumer, media and B2B services, chemicals, the law, private equity, agriculture, recruitment and cleantech.
During the year our quarterly conventions are supported by four Corporate Sponsors where Cambridge Capital Group Members gain access to research and events.
(For information about the services provided by our Corporate Sponsors please use the adjacent links).
Benefits of Membership
Membership of Cambridge Capital Group gives investors easy access to the most exciting early stage technology investments in the UK – we finance ground-breaking new technologies and co-invest with specialists. We are supported by 4 blue-chip sponsors who offer professional support to portfolio companies and advise the group on deal flow process. New membership enquiries should be made either through an existing member or through the Directors who can be contacted using the link on the contact page.
Members enjoy:

Deal flow – members see only the best opportunities from the leading technology cluster in Europe
Professional management - Cambridge Capital Group provides a full-time management as well as analysis and events support
Syndicated investment – we invest alongside specialists (private and institutional) in syndicated funding rounds
Events – investor events for members throughout the year include the Summer Convention in May, Spring and Autumn Convention days, an Easter portfolio forum and reception and a Summer golf day. Members also enjoy dinners sponsored by Corporate Members.
Proprietary access - negotiation of deals not available to the individual investor, through our market positioning and contacts
Involvement with portfolio - members may take non-executive directorships or observer roles at investee companies
Anonymity - the Group provides the public face enabling members to retain privacy
Collaboration - in the due diligence process, with contacts and skills shared in the Group
Negotiation - centralised for the membership as a whole
Networking - members develop new friendships and contacts
Cambridge Capital Group dinners are kindly sponsored by: